So, you want to repurpose that old chest of drawers.
Cool. That's exactly the position I found myself in.
So, with my partner expecting our first kid, I decided to turn the Malm 6-drawer chest that was just hanging out in our guest room into a changing table!
It's an easy diy project that only took a weekend to complete.
Tools I used to turn my dresser into a diaper changing table (with links to products; will open in new page):
Typical baby changing tables range in height from 36″ to 42″. Three drawers plus the crossbar of my chest measured in that range, and seemed like a back-friendly height for a work surface.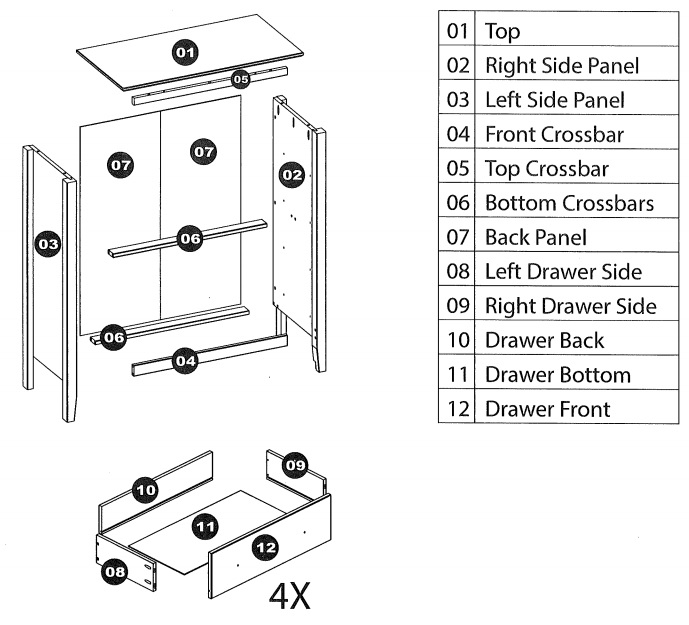 Plus, using an existing feature of the piece felt like a good way to minimize errors mostly in that it could provide a set point from which to measure and would be one fewer cut to make. So, I measured from the bottom of the chest (taking care not to include the attached "feet" or felt pads) to the top of the crossbar above the third drawer… then I measured again, because I was raised right… great attention was given to ensure everything was squared and that all the lines met up on all sides.
To ensure the cut lines matched up, I used the knife wall method described/demonstrated by my favorite woodworker Paul Sellers:

Then, it was the circular saw's time to shine… zip, zip, thank goodness for the laser guide, and the top 40% was removed.
I used the screwdrivers and a couple of solid whacks with a hammer to remove the hardware and disassemble the top & remove the top piece which you'll want to minimize damage to, because it will be re-affixed to the new body.
---
Sidenote: my top piece has a lip that was formerly on the underside. I thought it would be a nice brace/support to keep the pad from sliding around, so I flipped the top upside-down. Use what you have!
---
I lined everything up—top piece to new body—and drilled guide holes where the screws would go. Little bit of wood glue to seal small imperfections & provide a little extra security, and—voila—the bulk of the project was done.
I filled in holes and uneven spots with the plastic glue in three stages, which took awhile to let cure, before sanding it smooth. And you'll want to let it cure before sanding, because it likes to come off if it's not dry and hardened.
Then, I painted it to match the walls (we're going for an outdoors theme in the baby's room):
Some Velcro on the tabletop & the bottom of pad covers will help everything stay in place, so you can make that decision… there are also changing kits and myriad hardware options… just take into account that you'll want to keep things secure!
Final product: