‪My gf & I have decided to become the first dealers of all-lesbian-crafted, durable, & reliable timepieces. They'll take a lickin' & keep on tickin'‬ obviously, but – more importantly – we want the wrist to be associated with something much cooler than limp-ness.
Anyone can tell you that the name is the game… it's all in a name… a rose by any other name may smell as sweet, but you wouldn't like the iPhone half as much if it was called "the slippery germ brick." Right, Schmidt?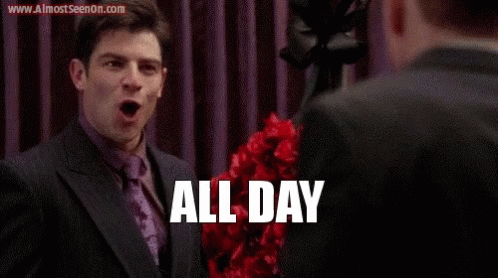 ‪…all day, son.
---
So, I've been brainstorming brand names for awhile. Here are the main contenders so far:
Strapped—if we specialize in non-metal wristbands.
Lez Get Digital—none of that analog nonsense.
Hand-Wound—no digital… and still, somehow, digital.
Herology—"her"+horology, the study of timekeeping.
LUGS—a lug is a part in a watch; you get a watch at freshman orientation & turn it in when you've completed your Bachelors.
temps pour femmes—niche market.
Style Sapphistocate—for the more genteel timeteller.
Kalachakra—Sanskrit word for the concept of the Wheel of Time (I just like this one).
Clitowristwear—I sense a partnership opportunity with Urban Outfitters…
Tick-Top—because, duh.
---
---
Check out some of these watch terms & tell me you're not proud I didn't use some of the more obvious ones (look in the Ts… geez).
And, in case you want to read some cRaZy slang lesbian terms—check these out.