We spend a lot of time looking back on and looking forward to things, being stuck in the past and anxious for the future. The only thing you can control is you. The only thing I can control is me. And the only time we can control you and me is RIGHT NOW.
Plus, what good is it to worry about the future if your current actions will take you where you want to go?
You don't worry about driving to the grocery store. You need groceries and set out for the store. You make the proper turns when you get to them – not before, not after. You try to avoid causing accidents. Then, you're there.
---
Mindfulness can help you tune into the present moment more, and you already have the tools necessary to get started.
There are major benefits to a calm & centered mind and, by simply tuning into the small things, you can reap those benefits. A quiet mind helps your body – by, for example, promoting better circulation/lower blood pressure – but it also helps your life mirror what you want it to be by providing clarity and focus.
Being centered is what being ALL IN is about: you have to be in touch with yourself, your visions for your life, and how your mind is working to align your actions. Taking time to rise above everything helps create nice harmony between what you want and what you have.
Some people are weirded out by the concept of meditating. Some don't "get" it. And others feel as if they don't have it in them to sit for any amount of time. I gave ideas for Minute Meditations, but…
Here are a few ways to boost the quality of your mind, without meditating.
---
REMIND YOURSELF: YOU ARE NOT YOUR THOUGHTS AND FEELINGS
They come from you. They are subordinate to you.
Whenever something enters your mind, simply identify it and move on.
You, yourself, are not scorn or regret. You're not self-doubt or anger.
You're separate from your thoughts and they're separate from you, so why dwell on them?
ACCEPT THAT THOUGHTS ARISE NATURALLY
So, what are you going to do with them? If you can't change them, why bother trying to replace them with different or "better" thoughts?
Don't beat yourself up over something you can't initially control, but don't ignore those thoughts either. Simply move past them and choose not to identify with them, even as they cloud your mind. Don't be afraid. Master your mind.
DO A ZACK MORRIS "TIME OUT!"
On the tv show 'Saved By The Bell', mischievous cool guy Zack Morris found himself in a few sticky situations. During those scrapes, he would throw up his hands like a basketball referee and yell, "Time out!" and everything would freeze, allowing Zack to process the situation.
We don't all have Bayside wizard powers, but we do have our own Mr. Beldings…
Take a pause.
Take a beat.
Take 5.
Close your eyes. Fill your body with a big inhale. Let your stomach expand with it.
Make your lips into a small "o" and exhale. Picture your thoughts or worries as a balloon in front of you & blow it away with a strong, concentrated stream of wind.
Do whatever it takes to break your mind away from the fray.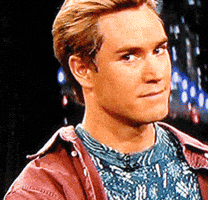 THANK SOMEONE ANY WAY YOU CAN
Look a cashier in the eyes, smile, and say "Thanks" when you're finished checking out.
Slow down a little and take time to acknowledge people.
That small gesture can connect us with the present moment & prevent us from becoming stuck in our own thoughts.
SMILE
Kind of like the previous one, this redirects attention from the swarm in own heads, which blocks us from enjoying life as it comes, and gives us a way to focus outward.
And I definitely DON'T mean it in the patronizing way douchebags do when they tell you to smile or say crap like, "You look so much prettier when you smile." ("I'll break your fingers off and feed them to you with a smile on my face." – I want to say back)
Smile when you want. But smiling just because is a pretty sweet way to use your biology against yourself – there's research that says using your smile muscles makes you feel better.
LEAVE YOUR PHONE ON SILENT ALL DAY
I felt your bum tighten up.
Try this, for real.
Take a day to do things on your own time. See how it feels.
Don't let a device rule you. Go to it when you feel compelled, but don't let it dictate when and how you give away your attention.
Plus, it'll give you a chance to focus fully on each task you're doing, rather than being interrupted by pings and dings before you can get in a groove.
EAT SLOWLY
Before you chow down, smell the aromas.
Focus on the texture and
the taste of what you eat.
Chew each bite deliberately.
All feelings may be temporary, but it's important to experience moments as they come. Being IN moments, rather than letting them pass you by, is good for focus AND squeezing all the joy juice out of life.
LISTEN TO INSTRUMENTAL MUSIC
It's proven to boost your ability to focus, which can raise your quality of mind and help you relax when your thoughts won't stop coming.
TACKLE ONE OF THE MOST STRESSFUL THINGS ON YOUR TO-DO LIST
Being mindful of life's "noise" doesn't mean to shy away from it. [That may be where a lot of people get hung up on the practice of mindfulness.]
Facing a challenge is actually a great way to cut down stress and beef up your "centered-ness muscles"  at the same time.
HAVE A DEEP CONVERSATION
Fully focus on the other person and listen to what they have to say. By not simply waiting to say our piece, we can help pull ourselves out of our own heads and connect more deeply to the moment by showing appreciation to the people we talk with.
WATCH YOUR FAVORITE SHOW
Note: that didn't say "Turn on a show and look at your phone the whole time"
Pay attention to the writing. See if you find something in the show that you didn't notice before. Laugh, ponder, gasp. See what the show's creators are trying to induce in you.
Watching your favorite show is fun, engaging, entertaining – It's rewarding. And it's a nice way to tune out for a little while.
WRITE A HAIKU OR ANY RESTRICTIVE POEM
This can challenge you to be creative in a way you probably arent, and can help you recapture a moment in your life that was pleasant but fleeting.
DO THE DISHES
Doing the dishes might seem like a shore, but it can be a great way to take a break from things & be productive.
PET AN ANIMAL
Focus on what the animal tells you it likes – my boy dog likes scratches behind the ears, but one of my girl dogs likes to be scratched on the neck.
Focus on how you feel. Notice the texture or softness of their fur. Notice changes in your body – petting an animal helps relieve tension because it stimulates "feel good" chemicals in our brains.
I've got some who'll take all the pets you have to give:
---
We live in a really dynamic world, which makes it really easy to get caught up in the busy-ness. It's easy to focus on the situations we're in, what's going on, etc. and get drawn away from being present in "the now".
Like Eckhart Tolle said,
"Realize deeply that the present moment is all you have."